This meal is in honor of Elisa from ecwrites.com. On 11/18/2011 she will be releasing her first book, "The Golden Sky." It is her journal from a time in her life full of trials and the loss of her son. Here is the quote from the back cover of her book. You can also order her book and read other writings of hers at the link below.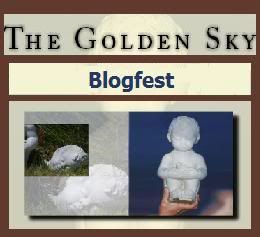 "The "death home" gave my son a really nice funeral, the kind I'd never wished to attend. When they tried closing his casket, I nearly fell on my face, not wanting them to shut the lid on my baby.
We lost it after that, totally cemented in our grief. Cade got into drugs, joined a rock and roll band, and even grew out his damn hair. At the time, I was sick of "the oatmeal option" (the only food we had), so I kicked Cade out of the house, and started modeling and working as a diesel mechanic. That was how I met Earl, an old man and unlikely best friend; the "big sag," a middle aged woman who still flashed folks; my neighbor, the stripper next door, and "The Cowboy," a man who fell in love with me.
It was slow at first, but Cade reverted back to the man I'd busked with years before. It wasn't until I killed a rogue skunk, and my daughter nearly choked on a fry, that I gave my husband another chance. But could our marriage recover from the death of our son?" -EC Stilson
Not "The Oatmeal Option"
4 Servings | Total Time: 30 Minutes |
Apprentice
Mats:
2 tsp garlic, minced
1/4 tsp pepper
1 tsp cornstarch
1 tsp veggi oil
1 lb sirloin tips, thinly sliced (Stir-Fry Beef)
3 tbl veggi oil
1 medium onion, thinly sliced
2 cups fresh green beans, trimmed
1/4 cup beef broth
1 tsp soy sauce
1 cup uncooked rice
Craft: Cook rice according to package directions. While rice is cooking, in a large mixing bowl, combine garlic, pepper, cornstarch, 1 tsp vegetable oil. Add beef, mix well. In a wok, heat 2 tbl oil over high heat for 1 minute then add beef; cook and stir for about 2 minutes or until beef begins to brown. Transfer beef to a bowl and set aside. Heat remaining 1 tbl oil in wok. Add onion; cook and stir until tender. Mix in green beans and broth. Cover and reduce heat to medium. Simmer for 4 to 5 minutes, or until bean are tender-crisp. Stir in soy sauce and beef. Cook, stirring constantly for 1 to 2 minutes or until heated through. Serve over hot rice.
Strategies: You can substitute the rice for ramen noodles if cooking rice makes you nervous.
Cost:
Meat | $4.50
Green Beans | $0.59
Rice | $1.00
Total Cost: $6.09
Cost Per Serving: $1.52
Categories: Raid Night, Critical Hits